PhD Meeting 2019
XXIX PhD Student Meeting in Munich, Germany
The 29th meeting of doctoral students in hydrogeology took place from 31 July to 02 August 2019 at the Technical University of Munich (TUM).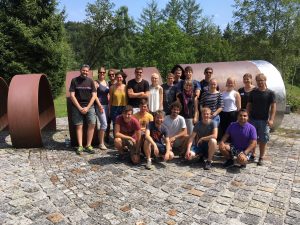 The first day was dedicated to renewable energies and started with a keynote by Dr. Kai Zosseder (TUM) on the geological characteristics of the South German Molasse Basin and its geothermal use. Above all, the influence of global climate change on the topics of hydrogeology as well as the chances and possibilities of working as a hydrogeologist in dealing with the energy turnaround were central topics. Subsequently, the drilling site of one of the largest European geothermal projects of the Stadtwerke München (SWM) in the Schäftlarnstraße in Sendling was visited. Among other things, the geological and drilling aspects of the major inner-city project with six deep boreholes were explained and presented.
On the workshop day, the research projects of all participants were presented and discussed in the form of lectures and posters in the premises of the Technical University of Munich. A total of 24 participants from more than eight different institutes and universities took part in the scientific discourse with exciting topics on gas storage facilities, scaling reduction in geothermal plants using CO2 injection, reactive reservoir systems, combined groundwater remediation and heat exchanger systems as well as topics on water protection with methods for nitrate reduction, determination of pollutant sources and process understandings in groundwater as well as groundwater-surface water interactions. Within the framework of the workshop day, a broad spectrum of topics in hydrogeology was covered and the possibility was created to conduct a lively exchange beyond one's own personal research topic.
| | |
| --- | --- |
| | |
On the last day, the SWM groundwater extraction plant for Munich was visited along the M-waterway in the idyllic Mangfalltal valley by bicycle. There, the most important aspects of extraction and treatment as well as sustainable management of the groundwater resource in Munich were explained and, among other things, the famous groundwater well in Reisach was visited.
This year's meeting was once again a valuable platform for all participating doctoral students to exchange scientific information and to get to know the topics and methods of other working groups. Since it was very well received by all participants, planning has already begun for the upcoming 30th Doctoral Meeting 2020 at the CAU Kiel.
The 29th PhD meeting was organized by the PhD students of the Chair of Hydrogeology of the Technische Universität München, in particular by Florian Heine, and kindly financially supported by the German Chapter of the International Association of Hydrogeologists (IAH-D), the Expert Group of Hydrogeology in the German Geological Society (FH-DGGV), Geothermal Alliance Bavaria and TUM-Graduate School. We would also like to thank the Stadtwerke München (SWM), which made the excursions to Schäftlarnstraße and Mangfalltal possible.
Florian Heine
Download the book of abstracts here.